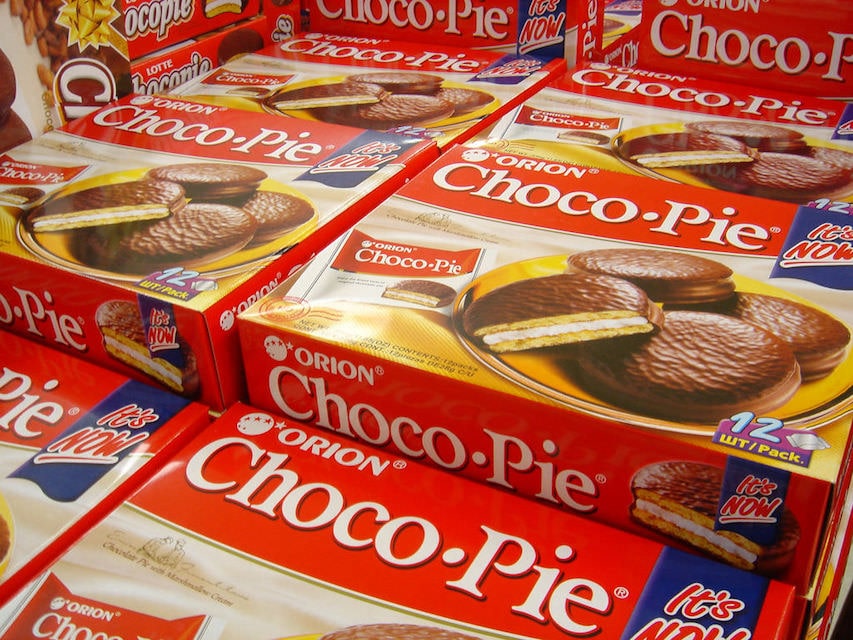 North Korean Soldier's Choco Pie (NOT Lifetime Supply)
Last month, Oh Chung-sung, a 24-year-old North Korean soldier, made an audacious sprint across the intensely guarded border that separates North and South Korea. He was dragged to safety by South Korean soldiers after fleeing a hail of gunfire. He sustained five gunshot wounds, and after undergoing surgeries, he woke up in capitalist South Korea and reportedly said he wanted to eat Choco Pie.
Choco Pies are sugary, individually wrapped snacks that have developed a special kind of notoriety in North Korea, where they are distributed as rewards, traded and sold on grey markets at prices high above their retail value.
Orion, the company that makes Choco Pie, heard Oh's reported longing for their snack, and delivered 100 boxes to the hospital where Oh was being treated. Since Oh isn't yet well enough to eat them himself, the pies were given as a gift of appreciation for the medical team, Cho Yoon-mi, a member of Orion's PR team, told Korea Exposé by phone.
Though it has been widely reported that Orion would provide a lifetime supply of Choco Pies for Oh, Cho said that the company hasn't made such a promise. She said the company would consider the lifetime supply if Oh fully recovered and expressed interest in such a deal.
Orion sending a bunch of the chocolate-marshmallow sandwiches garnered attention in part because Choco Pies occupy a special position in the love-hate relationship between North and South Korea.
Choco Pies became widely known in North Korea in 2004 when they were distributed as a treat for workers at the Kaesong Industrial Complex, where North Koreans worked for South Korean companies. But instead of eating them, the workers would sell them at inflated prices.
Demand for Choco Pies was driven by the lack of processed snacks available in the North, and as they became more sought after, North Korea banned Choco Pie from the Kaesong Complex, as they were seen as a symbol of South Korean wealth. After witnessing the demand for the snack, North Korea began to produce its own version of Choco Pie, Chocolate Danseolgi (쵸콜레트단설기), in 2015. The North Korean version is similar in shape and comes in the same kind of red packaging.
Daily NK taste tested the "Danseolgi" and described it as "decidedly lacking in chocolate flavor" and "being overwhelmingly pungent of butter." Daily NK also cited a source as saying that the North Korean version failed to take off, as locals were already accustomed to the South Korean Choco Pie.
The Choco Pie has a special meaning in the South Korean military as well. Soldiers joke about going to different religious institutions during their mandatory service –– a Buddhist temple on the first weekend, a Catholic church on the next, maybe drop by a Presbyterian service too — because they would get a free Choco Pie for attending.
A letter from Lee Seung-gi, a South Korean singer who recently completed his military service, sheds light on South Korean soldiers' taste for Choco Pie. He wrote that while attending church sermons during his military training, he could not stop thinking about the Choco Pie that he ate before his service.

Park Chan-ju, a South Korean army general who has been accused of hazing soldiers and taking bribes, testified to the power of Choco Pie, saying, "Soldiers will convert to a religion just to get one more Choco Pie."
Cover image: Choco Pies are a beloved South Korean snack. (Source: Steven Tom via Flickr, CC BY-ND 2.0)
Become a subscriber to access all of our content.