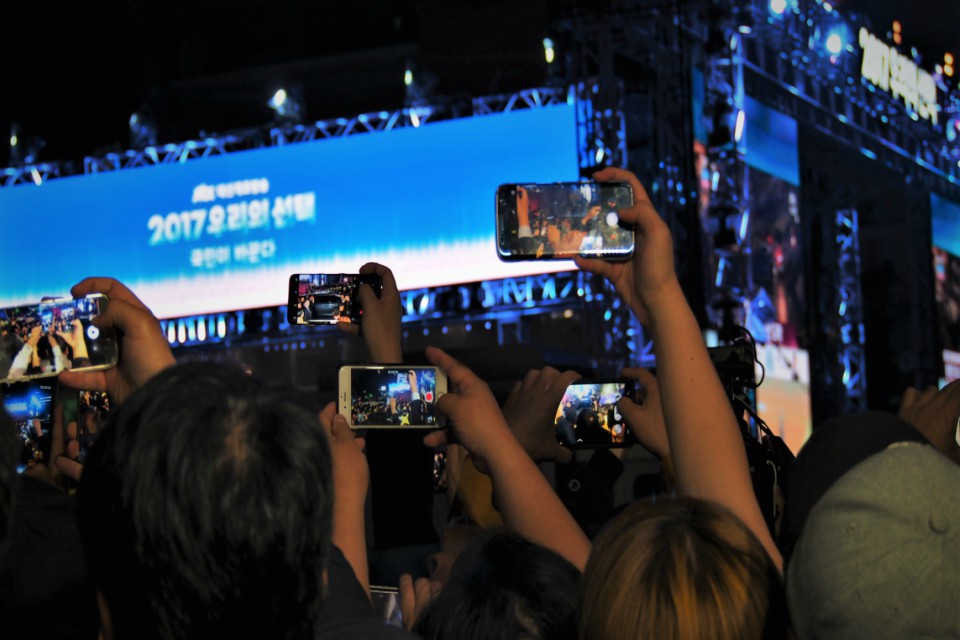 On Tuesday night in Seoul, the scent of victory mingled with the aromas of stale beer and fried chicken.
At a crowded bar and chicken joint in Seoul's Mapo district, several dozen supporters of new South Korean president Moon Jae-in gathered to watch the results of the national election come in, while cheering for Moon, a candidate for the center-left Minjoo Party who was leading polls going into the vote. The attendees were members of an online community of Moon supporters, and had organized the gathering to take in the election together in person.
The atmosphere was less like a group of discerning citizens gathered to observe their country's latest political turn. It felt more like fan club members massed to celebrate their idol's latest triumph. Frequent chants of Moon's name broke out, and the crowd squealed with glee every time he was shown on TV, or when the live news broadcast announced that he was leading in an exit poll. Mocking laughter rose when the broadcast showed the election camp of Hong Joon-pyo, the highest-polling conservative candidate, sitting in rows with forlorn facial expressions.
The crowd at the bar erupted in cheers when the event's emcee, after welcoming the crowd and explaining that each attendee would have to cough up 20,000 won (around 18 U.S dollars) for some chicken, draft beer and salad, said simply, "Our next president will be…Moon Jae-in!"
Much of the English-language coverage of South Korea's election described the race as being about how to handle an increasingly dangerous North Korea, and how to balance South Korea's alliance with the U.S. under the Donald Trump administration.
But when asked about their support for Moon, the voters amassed at the chicken joint talked not about foreign policy issues, but about Moon's character, and how they feel it positions him well to tackle the domestic policy challenges facing South Korea's next leader. Tuesday's election was held months early, as previous president Park Geun-hye was impeached over her alleged involvement in a corruption scandal, and South Korean voters are in the mood for a leader they hope will be transparent.
Cho Ah-ra, a 28-year-old woman, pointed to Moon's long track record of social activism and human rights law. "Over the years, Moon has many times been on the spot to support people in need, and has shown that he's interested in marginalized people," she said.
Moon entered politics in the administration of former President Roh Moo-hyun, a liberal icon in South Korea, after a career spent as practicing human rights law in the southern city of Busan. He now takes office as the first liberal to lead South Korea since Roh's term ended in 2008, after nine years of conservative governments.
A brief look through South Korean political history shows that, at some point in their term, all presidents, liberal and conservative, are involved in corruption and favor-giving scandals. Moon isn't free from these scandals; his recent presidential campaign was tainted by allegations that Moon's son had been hired under questionable circumstances as a public servant in 2007.
Park Chang-hyun, a man in his late twenties, hoped that Moon can nevertheless break that cycle. He mentioned that unlike most of South Korea's former presidents, Moon doesn't come from the wealthy elite. "I trust Moon as a person and a politician. He has led a principled life, and I trust that he will work to create a country where everyone has to follow the law. That's a basic principle of a civilized country," Park said.
Though the election wasn't officially called in Moon's favor until late into the night on Tuesday, early exit polls, which were announced after voting closed at 8 p.m, showed Moon leading by a comfortable margin.
The early news of an all-but-assured victory meant that, unlike some elections in the past, there wouldn't be a long, nail-biting wait to learn the result. The news sapped the gathering in the Mapo chicken joint of any tension, and created a celebratory atmosphere.
But Moon, who will be inaugurated on Wednesday, will have a long way to go to live up to supporters' expectations, and will immediately be tasked with addressing entrenched problems of low economic growth and polarization that have gotten to the point where many young South Koreans describe their country as "hell."
Jung Yong Ju and Kang Ju Hee, a married couple in their early forties, came to the Mapo gathering with their young daughter. Jung and Kang both work as teachers and hope Moon will create a better country for their children.
"My son asked me why I like Moon because I supported him in 2012 as well. I gave him three reasons. The first was his attitude towards children and animals. My children and I met Moon in real life once and when he saw us he greeted the children before greeting us. The warm way he treated our family made us trust that he respects children," Kang said.
Jung said Moon won him over with his promises that he will take care of people's well-being. He said, "I voted for Moon not simply because I am a fan or a long-time left-wing supporter but because I want a new Korea."
"This is the triumph of yearning," Moon Jae-in said on Tuesday, when his victory was a near certainty. "The yearning of the South Koreans who wanted political change, and our yearning to make the people's yearnings come true."
As the confetti is being swept away, the next question is whether Moon will be able to make good on his promises.
Haeju Kang contributed to this report.
Editor's Note: An earlier version of this article erroneously stated that Moon Jae-in's son was hired as a civil servant in 2006, not 2007.
Cover image: Supporters in Seoul cheer the outcome of the 2017 presidential election on May 9. (Hae Ju Kang/Korea Exposé)
*
Stay tuned for our in-depth look at Moon Jae-in, coming soon. It will mark the end of our election coverage:
Become a subscriber to access all of our content.