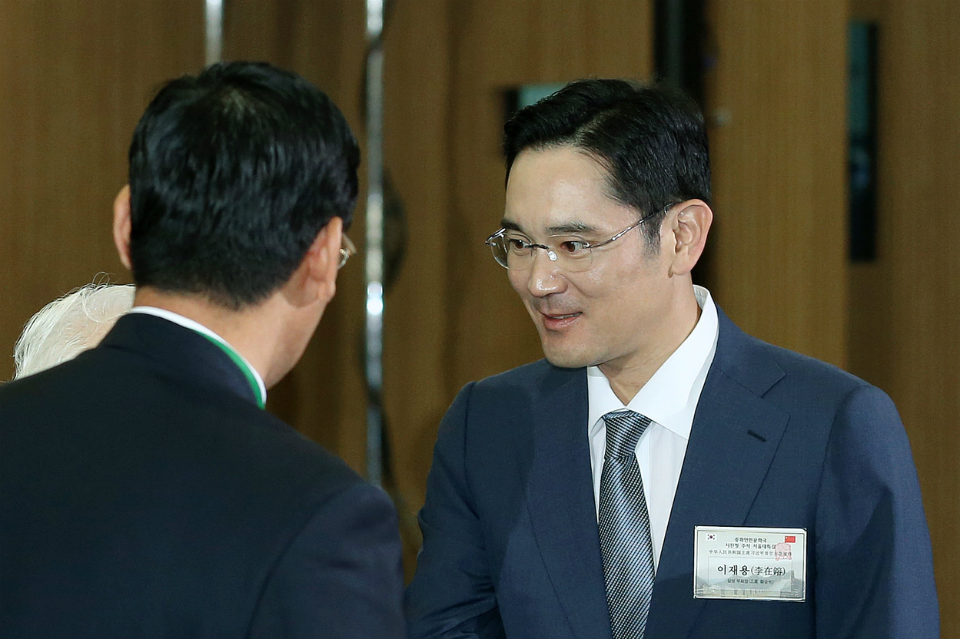 Samsung's Lee Jae-yong Released on Appeal
Samsung Electronics vice chairman Lee Jae-yong walked free from jail on Monday afternoon after an appellate court reduced his five-year jail sentence to two years and six months, suspended for four years.
The appellate court overturned several of the bribery verdicts passed on Lee in his primary trial, but upheld others, including the charge that Samsung gave a racehorse to curry favor.
At his primary trial in August 2017, Lee was sentenced to five years in jail for giving bribes as part of the wide-ranging corruption scandal involving ex-President Park Geun-hye and her confidante, Choi Soon-sil. The affair transfixed South Korea for much of late 2016 and early 2017, eventually leading to Park's impeachment by the country's National Assembly and Constitutional Court.
Lee's initial five-year prison sentence shook the nation. Lee is not just another corrupt businessman but the third-generation heir of the Samsung Empire, making him one of the most powerful individuals in South Korea.
Despite the severity of the bribery charges against him, many expected Lee to receive a suspended sentence just like numerous other chaebol predecessors who have been perp-walked down the cold corridors of Seoul High Court in Seocho, a southern neighborhood of the South Korean capital.
Lee Jae-yong's own father, Lee Kun-hee, and other leading chaebol controlling family members such as Lotte's Shin Dong-bin and Hanwha's Kim Seung-yeon have been found guilty of various forms of embezzlement, fraud, and corruption over the years, but generally wriggled their way to freedom by receiving suspended sentences.
In the days leading up to the Feb. 5 verdict, South Korean media published a flurry of articles for and against Lee.
Left-leaning newspaper Hankyoreh ran a column under the headline "This was a crisis for Lee Jae-yong alone, not for Samsung." The piece dismissed arguments from Samsung and conservative media that Lee's imprisonment would damage South Korea's entire economy as "inflated and farfetched," citing Samsung Electronics' recent record quarterly earnings and stock split.
But leading conservative newspapers Chosun Ilbo and Joong-Ang Ilbo, which together account for a 70 percent share of the South Korean newspaper market, decided to establish their own lines of defense for Lee.
A Joong-Ang Ilbo article published on Jan. 29 warned of "concerns voiced abroad" ahead of Lee's appeal verdict, compiling quotes from various foreign business experts and politicians about the potential negative effect of Lee's imprisonment on Samsung, the South Korean economy, and even the credibility of president Moon Jae-in and the South Korean government.
Meanwhile, the Chosun-ilbo ran a series titled "One year of Lee Jae-yong in prison," listing purported side-effects of the vice-chairman's detention such as subsidiaries cut adrift and lacking leadership, and an overall deterioration in discipline across the conglomerate.
Such claims were effectively undermined by Lee Jae-yong himself, who claimed in his trial last year not to be actively involved in the running of his behemoth company. "There was no chain of approval involving me… I had neither the knowledge nor the competence to make decisions," Lee told the court.
According to Jun Sung-In, a professor at Seoul's Hongik University, South Korea's often-lenient attitude toward chaebol heads and their crimes exists mainly for four reasons: a tendency to show devotion to strong figures; the self-presentation of chaebol as patriotic companies by appealing to nationalist sentiment; and emphasis on chaebol's capacity to provide jobs and their vital role South Korea's economy.
"However, this type of framing is not good for [chaebol] investors, let alone the overall South Korean economy," Jun said.
It remains to be seen whether prosecutors will launch a further appeal against Monday's sentence.
Cover image: Samsung Electronics vice-chairman Lee Jae-yong meets dignitaries at an event in 2014. (Source: Republic of Korea via Flickr)
Join the newsletter to receive the latest updates in your inbox.