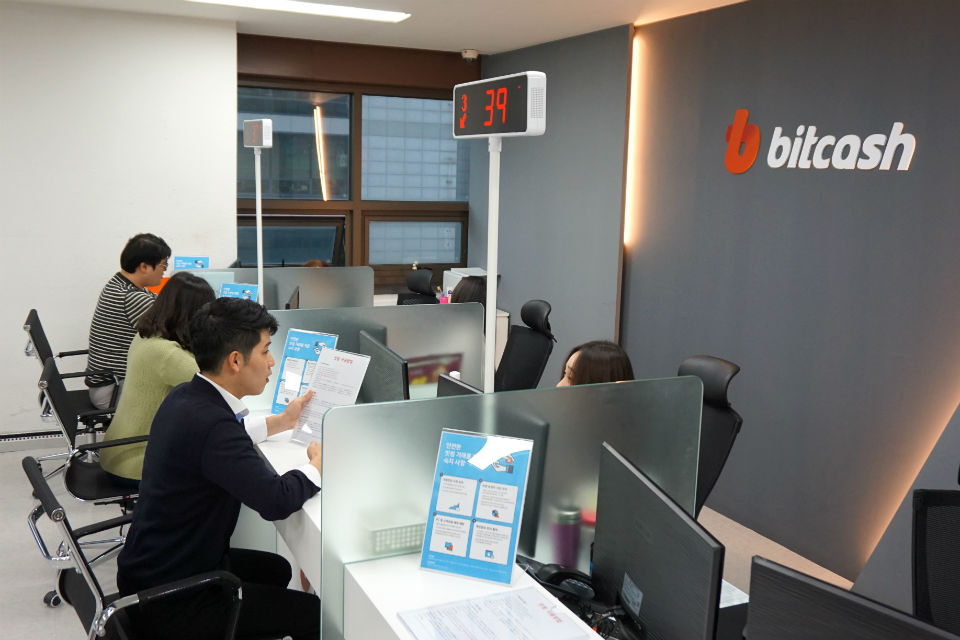 Virtual Insanity: South Korea's Bitcoin Craze Gets Physical
On the fifth floor of a relatively nondescript building in Gangnam, one of Seoul's main financial districts, lies a 200+ staff call center operating round the clock in four languages. In the room next door await four consultants ready to serve the average 200 customers that come through the center's doors daily. This is no ordinary customer support center. It is South Korea's first brick-and-mortar cryptocurrency exchange service center, in the flesh.
Welcome to Bithumb, one of the largest cryptocurrency exchanges in the world.
By nature, buying and selling cryptocurrencies — digital moneys designed to be secure and mostly anonymous — don't require much human interaction, and most Bithumb customers will never have to talk to a live person in making transactions.
Enter South Korea: a country well-known for its customer service, and insatiable appetite for cryptocurrencies. It has combined the two to create a rarity in cryptocurrency exchange: an offline service center, which Bithumb claims is the first of its kind in the world.
South Korea is one of the world's fastest growing markets in cryptocurrency. In particular, Bithumb, first launched in January 2014, has experienced tremendous growth in the past half year, with a daily average trading volume of 700 billion won (around $620 million). It is by far the largest virtual currency exchange in South Korea, the largest in Asia, and one of the biggest in the world.
When the company's call center first opened in early 2017, there were 20 consultants answering phone calls. Due to surging demand, the center moved to a nearby building, and by July this year, the number of employees increased tenfold to 200, enabling 24/7 services in Korean, English, Japanese and Chinese.
For a country that prides itself on high standards of customer service, South Koreans have come to rely on always being able to call a service agent, visit an after-service center, or have an agent dispatched to directly fix the problem at home, usually for free or at a minimal cost. For South Koreans, customer service is a given. For Bithumb, this is good business.
Its center processes an impressive daily average of 10,000 calls, mostly about service usage, identification issues, and general trading questions. The staff are young and cheerful, have their Starbucks coffee at hand, and wear slippers — customary items as you would find in any South Korean office. It all feels very normal, very Korean, and very human.
This year, cryptocurrencies saw a surge in trading and interest, with analysts attributing the rise to increased demand from Japan and China, as well as from institutional investors. Some traders see cryptocurrency as an alternative to cash, others as an investment opportunity.
Next to the Bithumb call center in Gangnam is South Korea's first walk-in cryptocurrency consultation service center called 'Bitcash,' providing specialized advice to people who want face-to-face interaction.
"There was demand for this kind of center," a Bithumb spokesperson said, refusing to be named. "Most inquiries are from elderly people who are not too familiar with the internet and mobile services."
Currently, the Bitcash center sees a daily average of 200 people walking through its doors; the company said it had further plans to open a second center in Seoul, followed by others nationwide including Busan, Daejeon, Gwangju, Incheon and Gyeonggi Province. Bithumb's domestic rival Coinone followed suit, recently setting up a new offline center in Seoul's Yeouido district.
South Korea's exchanges often hover in the top ten in the global cryptocurrency market in terms of trading volume, with Bithumb usually at the top. Just how did Korean exchanges go from being relatively unknown websites for tech geeks, to metastasizing into some of the biggest players in the industry, even to the point of rapid offline expansion?
According to Jang Yoowi, the executive editor of ICO Crowd Asia, a cryptocurrency investment magazine, "Infrastructure is a lot stronger in South Korea. People are a lot more familiar with using the likes of KakaoTalk, KakaoBank and payment services such as Toss; they find it much more easier to use virtual investments. Korea also has some of the best Mobile Trading System (MTS) platforms in the world."
South Korea is indeed one of the world's most connected societies. According to a recent report by the South Korea's Ministry of Science, ICT and Future, in 2016, 99.2 percent of all households had internet access, while the total population's smartphone usage rate stood at 83.6 percent. The average broadband internet connection is the fastest in the world at 28.6 Mbps, according to Akamai, a cloud delivery platform provider.
While many other countries use MSN Messenger-lookalike WhatsApp, Koreans are on KakaoTalk, the country's biggest instant messaging app. Using the same Kakao login details, they can easily and conveniently register to use services such as banking, music download, maps, shopping, stock trading, and now even cryptocurrency trade.
In such an environment, and with little (at least for now) barriers to entry, including taxation and other regulatory hurdles in cryptocurrency transactions, it is no wonder that South Korea has become a trading hotspot in the cryptosphere.
Yoon, an office worker at one of South Korea's largest conglomerates, is one of the million plus South Koreans on the cryptocurrency bandwagon. (He requested that his full name be withheld.) "Things were exploding earlier this year," he said.
He has suffered substantial losses, probably not foreseeing a situation like the one on Nov. 12, when Bitcoin value plummeted by $1,000.
"I am still trying to recover," he said. "I thought it was a sure investment, but ended up losing millions [of won]." But he's still in the rat race. "It's like an addiction."
Jang at ICO Crowd Asia thinks there's more to the popularity of cryptocurrency in South Korea than lack of regulation and a convenient internet ecosystem.
"A lot of elderly people are interested in high-risk high-return investments. They've traditionally done so through real estate, but with jeonse opportunities fading away, they are continuously looking for ways to increase their assets," he said. Jeonse is a system where instead of a monthly rent, tenants pay a lump sum deposit upfront to the property owner (in this context, the elderly), who use this money to invest and increase assets.
John Ra, General Manager of Bitcoin Center Korea, a community center and incubating space for all things Bitcoin, told Korea Exposé that it was about time cryptocurrency took off. "[The popularity] is just a sign of more adoption and well educated users, after almost a decade since the bitcoin was introduced. It may seem like it took a long time, but better to be late than never."
Ra doesn't think the 'bitcoin craze' is a transitory bubble. "After almost a decade since its introduction, people are finally grasping what used to be a grassroots movement. [Cryptocurrency] is becoming mainstream now. If you can call a decade-long upward trend "temporary," then we guess you can call it that way."
Cover: Bithumb's Bitcash center, South Korea's first cryptocurrency exchange walk-in support center in Gangnam, Seoul. (Raphael Rashid/Korea Exposé)
Join the newsletter to receive the latest updates in your inbox.