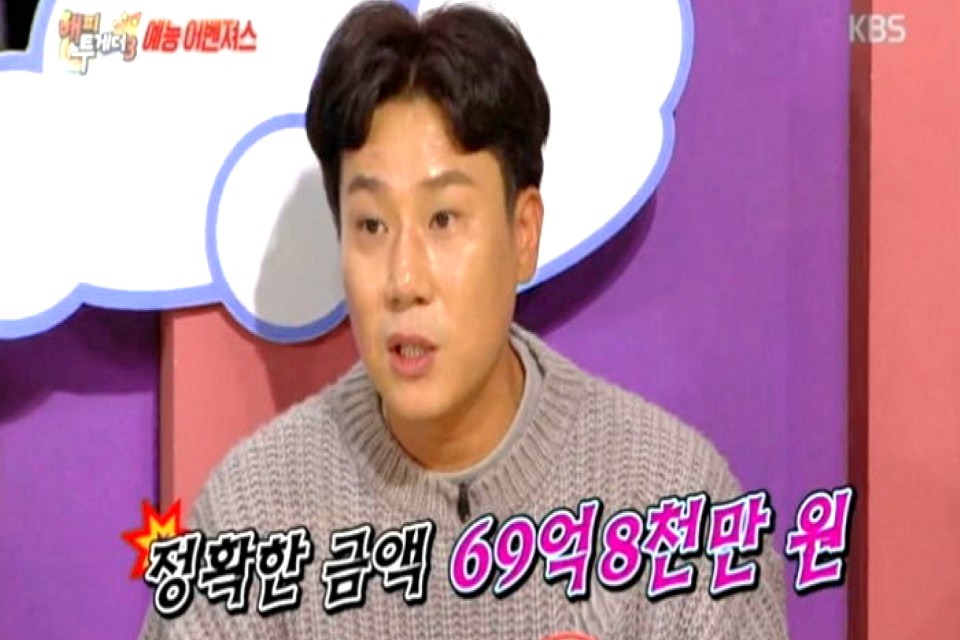 "Icon of Debt": S Korea's Most Sought-After Celebrity
Seven years ago, he was banned from major television channels after being convicted of running an illegal gambling business. Today, Lee Sang-min is one of the most sought-after celebrities in South Korea.
He is a permanent panelist on 11 television shows. In May, he ranked first in a celebrity reputation index conducted by Korea Reputation Center. The center analyzed big data on 30 popular television personalities, to find which keywords were associated most frequently with them; for Lee, one of these was "creditor."
This keyword highlights why he is so popular today.
In the `90s, Lee was a rapper and legendary music producer who scouted and promoted top musicians. But his reputation hit rock bottom in the early 2000s. One scandal piled up after another: He was accused of plagiarizing music. He got divorced from well-known actress and singer Lee Hye-yeong after just a year of marriage. He was convicted of running an illegal gambling business and sentenced to one and a half years in prison.
Last but not least, he started a mega-restaurant featuring live martial arts battles and transgender shows, which failed royally in 2005, landing Lee with debts amounting to 6.9 billion won (roughly 6,200,000 U.S. dollars).
Ironically, years later, Lee's tribulations are becoming lucrative material as part of his comeback.
His return began slowly but surely in 2012, when he became the star of a mockumentary-style show on cable channel Mnet. "God of Music" chronicled Lee's journey in establishing an entertainment company. While treading a tricky line between reality and script, he didn't shy away from controversy. His seemingly authentic and unpolished personality amazed and entertained many, opening the way to another heyday for him.
In one episode, an anonymous creditor forced his way into the office when Lee was holding a meeting with the cast. The creditor, whose face was blurred for broadcast, accused Lee of avoiding his calls. Lee politely asked him to leave until the shoot was over. One cast member suggested mockingly that Lee jump from the fourth-floor office window rather than face the angry creditor. Viewers were left to decide whether the scene was fabricated or genuine.
"Debt" is a compelling part of Lee's authentic persona. He isn't afraid to discuss it, including how he has been paying off a hefty sum for more than ten years. Some even call Lee the "icon of debt." Recently, on one of his shows, Lee invited one of his creditors for a meal. Since 2004, Lee had been paying him back one billion won (approximately 900,000 dollars).
"I'm more impressed than fed up with your tenacity. I don't think there's anyone who pays back debts for over 10 years," said the creditor, who treated Lee like a younger brother.
Lee is unabashed on television about his austerity. He proudly boasts his 100-won (10 cent) socks and 7,900-won (seven dollar) pants. He shares tips on how to survive the summer without air-conditioning. This shabbiness resonates because Lee doesn't succumb to his situation but rather makes the most out of it. For instance, as a self-described gourmet, he cooks instant noodles with pieces of local beef (considered a superior choice in South Korea, and accordingly more expensive), which some viewers happily replicate.
Perhaps part of the reason why Lee resonates with South Korean viewers has to do with the country's economic recession.
South Korea's household debt to Gross Domestic Product (GDP) has been constantly rising, reaching an all-time high in late 2016. Domestic consumption is plunging to lower levels than ever and negative consumer sentiments are pervasive. The economic situation has been bad enough so far, but forecasts are even gloomier. To a degree, Lee Sang-min's proud austerity (at least on TV) reflects South Korea's consumer behavior.
And his transparency about his financial status is giving him a high moral ground.
"[Lee] satiates the fantasy about righteousness and hope, by paying off an incredible amount of heavy debt while standing firm," said cultural critic Bae Gook-nam in daily newspaper Joongang Ilbo. "This contrasts with our society, which has been tainted by tax evasion and other instances of skirting the law."
Above all, Lee's story of evolving from an icon of debt to one of recovery implicitly sends a message of economic optimism to viewers. Instead of drowning in his misfortunes, Lee worked hard to overcome his economic woes. Now, he is successful again (although he's still paying off his debt). People admire his frankness and perseverance, but, more importantly, his recovery as a successful star.
Cover image: "Exact Amount: 6,980,000,000 won!" Lee Sang-min talks about his debts on a TV show. (Source: KBS)
Become a subscriber to access all of our content.