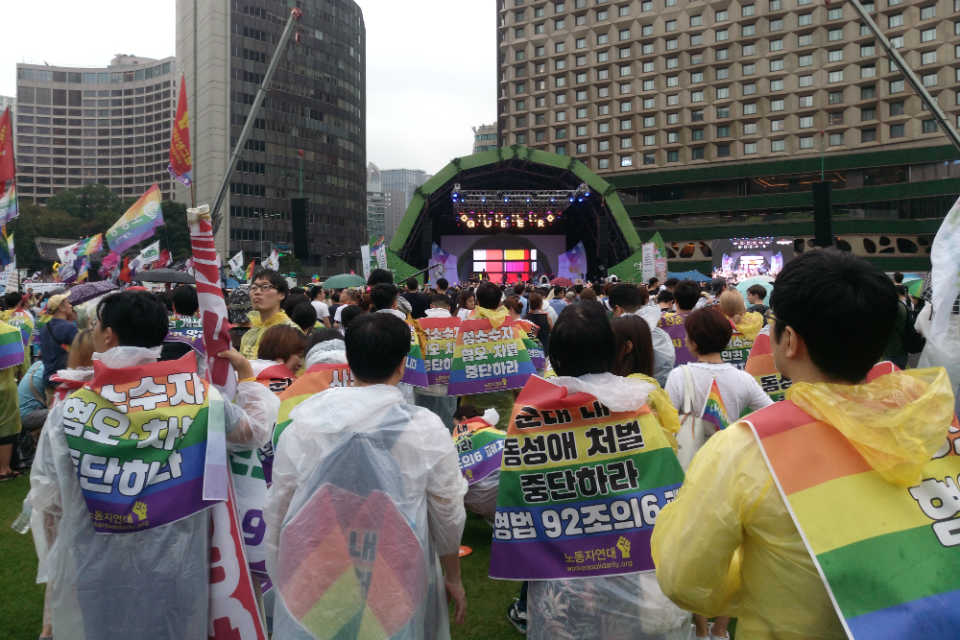 "Gay Blacklist": Retired Officer Acquitted for Having Gay Sex in Army
A former South Korean soldier, accused of having sexual intercourse with another soldier, has been found not guilty by a civilian court in Seoul.
"Lieutenant B" was an active army officer when he fell victim to the South Korean army's systematic "gay blacklist," according to the Military Human Rights Center for Korea (MHRCK), which advocates for soldiers' rights.
The "gay blacklist," allegedly masterminded by Jang Jun-kyu, the former Chief of Staff of the South Korean army, first came to light in April 2017. The MHRCK claimed Jang had ordered that gay men in the military be hunted down, conducting a nationwide investigation between February and March 2017 through phone-tapping, monitoring of gay dating apps, and one-on-one interrogations. The MHRCK argues the army had 40 to 50 soldiers on their blacklist. The army denies all of MHRCK's allegations.
"B" was indicted by military prosecution in July 2017 for violating military criminal law. The case was transferred to a civilian court that same month, after he was discharged from active service.
Under the Military Criminal Act, Article 92-6, also called the Indecent Act, "A person who commits anal intercourse with any person [in the military]…or any other indecent act shall be punished by imprisonment with labor for not more than two years."
On Feb. 22, according to MHRCK, Seoul Northern District Court judged that consensual sexual intercourse could not be subject to criminal punishment, and that using the law to punish soldiers that have consensual sex is unconstitutional, thus finding him not guilty.
Lee Jeong-mi, leader of the minor leftist Justice Party, welcomed the ruling, saying in a statement, "It is a matter of common sense that consensual sexual intercourse cannot be a crime, same or opposite sex. We cannot tolerate any further criminal acts against a human being solely because of different sexual orientation." She demanded the Constitutional Court repeal the Article 92-6.
MHRCK said that of the 22 soldiers that had been under investigation, seven were judged guilty (four under probation, three with suspended sentences), of which three were undergoing appeals. As for the other soldiers, their cases were either under trial, or were later dropped.
The case of "Lieutenant B" is separate from the case of "Lieutenant A," who last May was sentenced to six months in prison, the prison term suspended for one year. At the time, Amnesty International condemned the judgment, calling on the South Korean military to "immediately end a bigoted hunt to root out gay personnel."
Outside the military, anal intercourse is not illegal in South Korea, but homosexuality still remains a highly controversial topic in a still largely homophobic society.
Read more about homosexuality and LGBT rights in South Korea:
Cover image: Attendees at the 2017 edition of the Korea Queer Culture Festival. Their banners read "Stop the punishment of homosexuals in the army, repeal Article 92-6 of the Military Criminal Act." (Raphael Rashid/Korea Exposé)
Join the newsletter to receive the latest updates in your inbox.