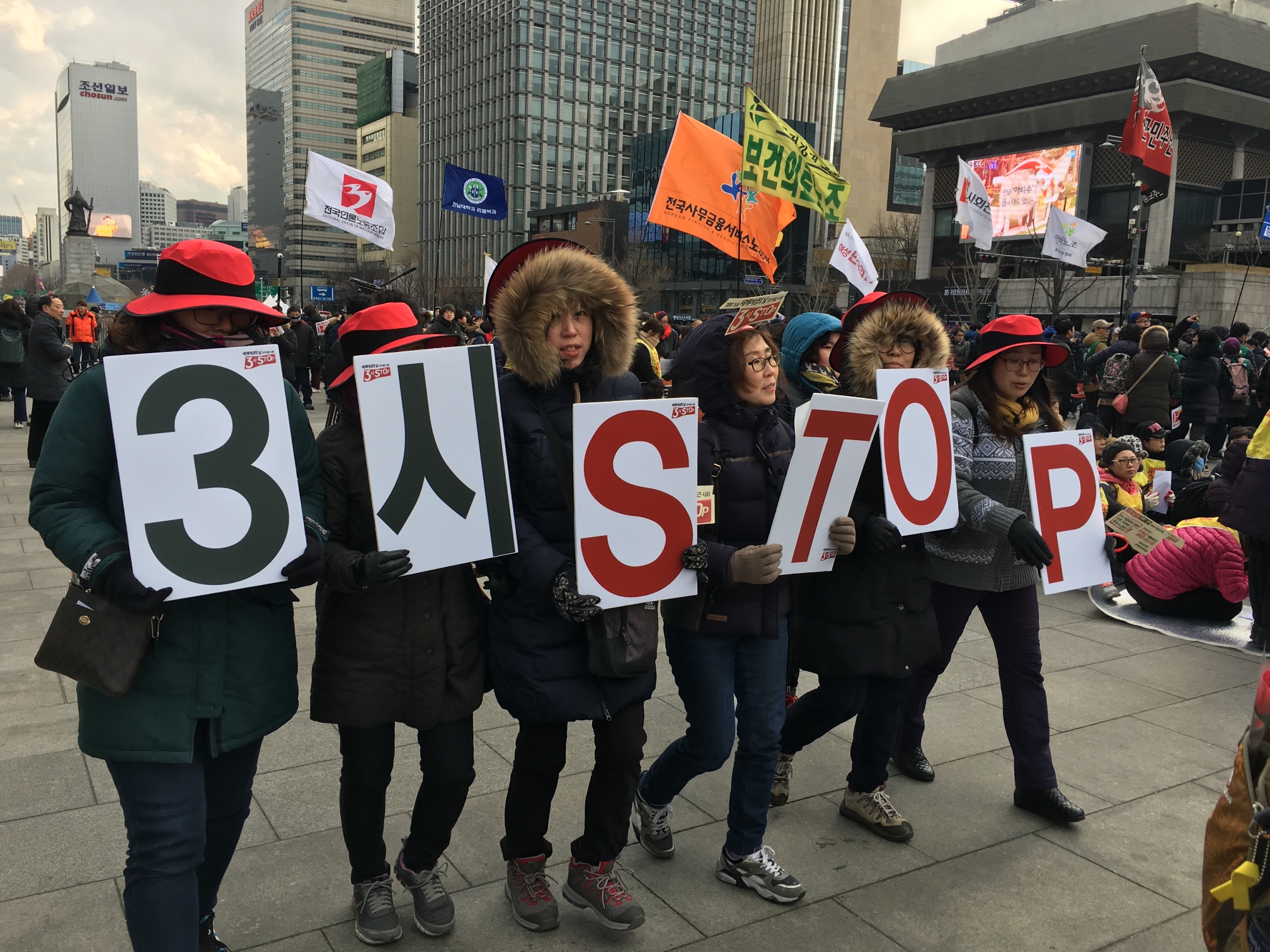 "A Day Without Women" on the Streets of South Korea
Today was International Women's Day, and South Korean women took this celebration to another level. Korean Women Workers Association (KWWA) held a "Day Without Women" march in downtown Seoul and other cities nationwide, calling out for women to fight against the gender wage gap. In Korean, the event was literally called the "Stop at 3 p.m, Leaving Work Early" march.
Under the slogan "#3 P.M STOP," the demonstration went viral both online and offline: Women who could not participate in the march joined indirectly by uploading photographs on social media.
https://twitter.com/BAK_Yee/status/839357470883504128
"#STOP@3PM! International Women's Day."
#38세계여성의날 #3시STOP 내일저도 조기퇴근. 아니고 #조기퇴근시위 함께 합니다. 퇴근이 불가하다면 멍때리기, 커피 마시기, 괜히 화장실가기 등등 #업무태만장려 드립니다. 남자가 100만원 받을때 64만원 받는 당신 #그대로멈춰라

— 눈 (@snowboi84) March 7, 2017
"If you can't leave work early, I encourage you to #SlackOff: zone out, drink coffee, and randomly go to the bathroom. You who receive 640,000 won for every man's one million won, #StopRightThere."
Why 3 p.m? Gender wage gap calculations say that South Korean women work for free from three o'clock in an 8-hour work day. According to OECD statistics, South Korean women make around 65 percent of what men make, making the country's gender wage gap the largest among OECD nations. Among the member nations, "A Day Without Women" march starts the earliest in South Korea. (In France, the march started at 4:34 p.m last year.)
Thirty more countries worldwide are participating in this demonstration on International Women's Day. For South Korea, this year was its very first "Day Without Women" protest.
Schools in 2 states are telling students to stay home on Wednesday during a nationwide "Day Without Women" protest https://t.co/6ccjmMgZ7L

— The New York Times (@nytimes) March 7, 2017
South Korea's march against the gender wage gap wasn't without its critics. "Today's march was highly politicized by the main organizer, the Korean Confederation of Trade Unions," said a representative from the women's committee of the Korean Teachers and Education Workers Union. "They mobilized men who were completely ignorant of feminists issues, and I felt like they ruined the atmosphere today. It was so ironic that a women's march on a women's day got ruined by rude displays of masculinity."
Lee Hak-geum, a vice-branch manager of KWWA, told Korea Exposé: "I was glad that different organizations could get together and chant powerful slogans together; I am looking forward to seeing more active gatherings like this."
Cover Image: "3 p.m STOP." (Seohoi Stephanie Park/Korea Exposé)
Seohoi Stephanie Park wrote this radar report. She contributed all protest images.
Become a subscriber to access all of our content.