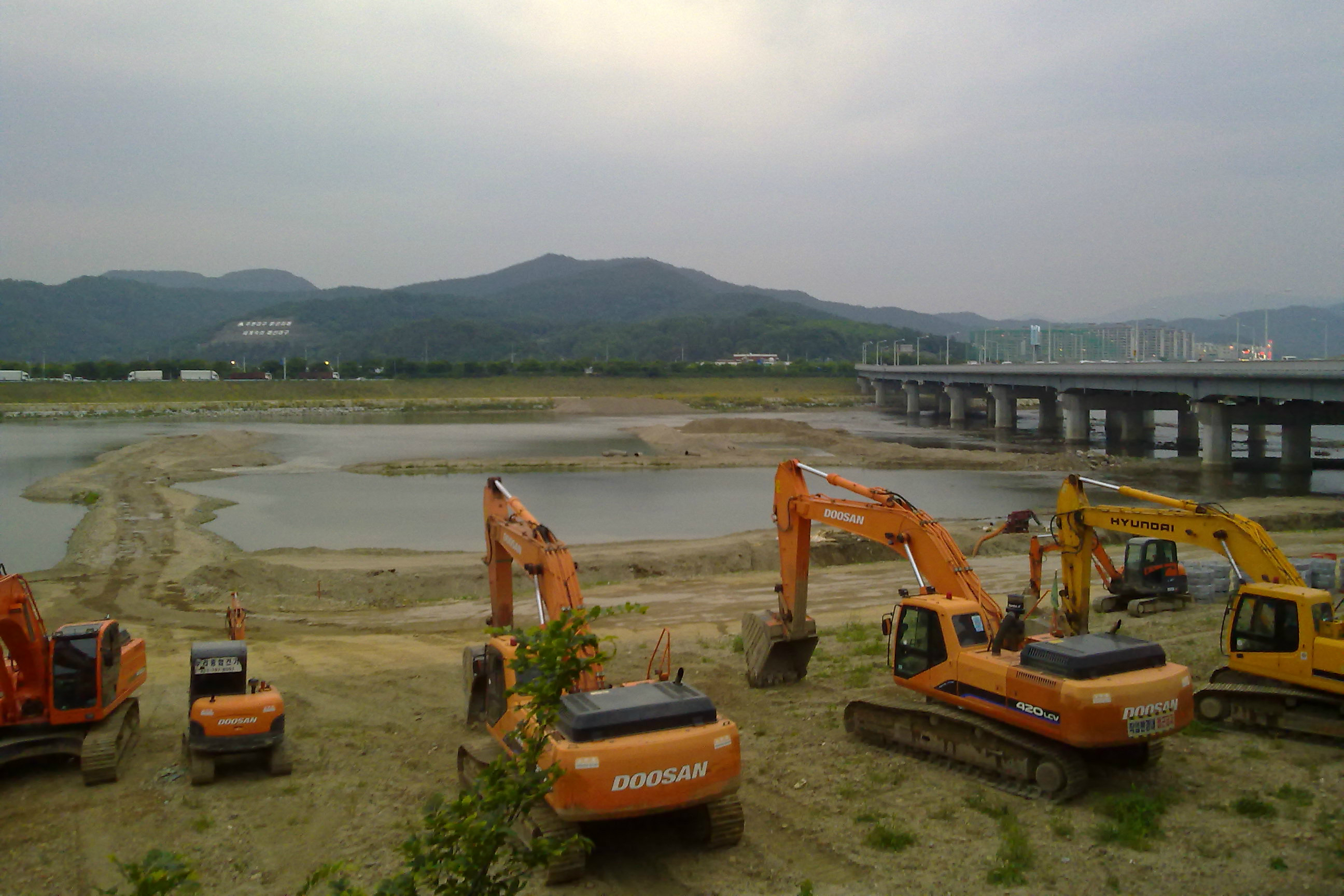 Which South Korean Presidential Candidates Actually Care about the Environment?
On a global level, it seems more and more people care about environmental issues. But maybe not in South Korea.
The 2015 Paris Agreement to limit global greenhouse emissions, Barack Obama's Clean Power Plan in the same year, and China's 2013 China's Action Plan for the Prevention and Control of Air Pollution are all testimony to the growing awareness that business as usual could lead to irreversible damage to our planet.
(Even Donald Trump's efforts to scrap various climate protection measures are meeting strong resistance within the United States.)
But despite this growing global awareness, the environment remains a low priority for many people. Unfortunately for South Korea, some of these include its top presidential candidates. As the country approaches its next presidential election on May 9, the environment generally appears far down its most eminent politicians' priority lists.
One notable exception is fine particulate air pollution, often known as fine dust: It's one of the hottest buzzwords when it comes to South Korea's pollution, as hazy skies increasingly become a regular feature of South Korean spring (and summer, fall, and winter, for that matter). Outcry from the citizens has forced many candidates to propose so-called "fine dust manifesto pledges," though with mixed levels of potential effectiveness.
But there are other key environmental issues in addition to fine dust. What are some of South Korea's most prominent environmental problems, and how do the major presidential candidates address them?
THE ISSUES
Fine dust has emerged as the highest-profile environmental issue this election. Its tangible presence and effects on everyday life have heightened public awareness of the problem. Fine dust results from a combination of external (mostly China) and internal factors. For the latter, criticism has focused on the government's current lax air quality standards and on plans to build 20 new coal-fired power plants.
The Four Major Rivers project is another top concern among environmental activists. This flagship scheme of the Lee Myung-bak government placed multiple weirs and dams along the Geum, Namhan, Nakdong and Yeongsan rivers at a cost of 22 trillion won (19.3 billion U.S. dollars) between 2008-2013. The project was slammed by many from the start for its large-scale destruction of riparian ecosystems, probable exacerbation of water quality, muddled aims and astronomical expense. Large stretches of the four rivers are now largely stagnant and heavily afflicted by algae – as foreseen by critics from the start.
The nuclear power industry also enjoys a relatively high profile as the election approaches. Concerns about the safety of nuclear power plants have risen after the Fukushima disaster of 2011, combined with several instances of equipment failure at South Korean nuclear power plants, and controversial decisions to extend the operation of the country's oldest reactors — but the biggest turning point was the series of earthquakes in the country's southeastern region, which is home to a high concentration of nuclear plants, last year. Meanwhile, Yonhap News reported last week that the country's nuclear reactors were not designed to withstand a military attack, further undermining their safety credentials.
Harmful chemicals in our midst also need to be regulated better. Between 1994 and 2011, toxic humidifier disinfectant, made by a number of firms including the eponymous local subsidiary of Reckitt Benckiser, killed more than 230 and injured more than 1,500.
THE MANIFESTOS
15 candidates are officially registered for the coming election. Here, Korea Exposé grades the five leading candidates in descending order of support rates (as gauged by a poll conducted by Realmeter and published on Apr. 19) on the comprehensiveness of their environmental policies: Moon Jae-in of the Minjoo Party (43.8%), Ahn Cheol-soo of the People's Party (32.3%), Hong Joon-pyo of the Liberty Korea Party (10.2%), Sim Sang-jung of the Justice party (4.2%) and Yoo Seong-min of the Bareun Party (3.2%).
(Key: FD = fine dust; 4R = Four Rivers; NP = nuclear power; HC = harmful chemicals)
Moon Jae-in (Grade: C)
Attempting to pin down Moon Jae-in's environmental manifesto is like trying to nail tofu to a concrete wall. Korea Exposé spent three weeks trying, in vain, to detect the remotest whiff of an environment-related policy on his campaign website and through multiple phone calls to the campaign.
On Apr. 18, Lee Ji-soo, a foreign media spokesperson for Moon's campaign, confirmed that Moon's complete manifesto would "probably be published within a week" but that the date was not yet certain. The individual in charge of environmental policy in the campaign could not be directly contacted, the spokesperson said.
Lurking on the National Electoral Commission's website is Moon's list of 10 key manifesto pledges, the last of which mentions some plans for the environment:
FD

Lower fine dust emissions by 30% within presidential term (five years), stop construction of new coal-fired power plants, reduce number of diesel-powered vehicles on road and increase number of "eco-friendly" vehicles

4R

No mention

NP

Shut down aging nuclear power plants, stop the building of new ones and provide a road map to a nuclear energy-free South Korea within 40 years.

HC

No mention
Ahn Cheol-soo (Grade: B)
Just a few weeks ago, Moon Jae-in's lead in the presidential polls looked unassailable. But since then, anti-virus software tycoon-turned-politician Ahn has rapidly emerged as a challenger.
Oh Jeong-rye, an official with Ahn's campaign, was able to send Korea Exposé details of Ahn's fine dust policy. Its key points include:
Demand cooperation from neighboring countries in combating dust emissions,

Convert planned new coal power plants to run on "eco-friendly sources"

Use the Internet of Things (IoT) for real-time local fine dust level reports (as if this will solve anything).
Ahn's list of 10 major manifesto pledges also states his intention to build an "eco-friendly energy superpower" while tackling climate change; ensuring clean water; developing the "environmental industry"; and creating future jobs through innovation in environmental technology. Measures to this end include:
FD

Cancelling plans for the four new coal plants that remain unbuilt

4R

Restoration of the four rivers to their natural state

NP

Banning new nuclear power plants and closing ageing plants

HC

No mention

Other

Concentrate on smart grid, renewable power generation, electricity storage systems and electric vehicles.
Hong Joon-pyo (Grade: D)
Fiery former prosecutor and South Gyeongsang provincial governor recently promised to "run the Republic of Korea through a washing machine." But does his zeal for national cleanliness extend to the environment?
Hong's Liberty Korea Party sent Korea Exposé a summary of his environment-related manifesto pledges. These fall into two categories, the second of which was fine dust:
FD

Tighten emission regulations for coal plants [apparently without scrapping new plants], making 35% of vehicles sold in 2022 "eco-friendly," providing subsidies to replace diesel-powered buses with compressed natural gas equivalents, strengthen cooperation with China and create a Northeast Asian body for cooperation on air quality-related issues.

4R

No mention

NP

No mention

HC

No mention
Hong's first specified environmental policy focuses on supplying clean water, but without mentioning the Four Rivers project. In fact, it calls for the building of even more "dams" to collect drinking water. Nice. 
Sim Sang-jung (Grade: A)
Sim's Justice Party sent Korea Exposé the fullest selection of environment-related manifesto pledges. On the four key issues, her plans are as follows:
FD

Change transportation and energy tax to "fine dust and environmental justice tax", improve protection from environmental pollution for most vulnerable members of society, abandon plans for new coal-fired power plants and replace them with renewable facilities, form a Northeast Asian environmental cooperation body, bring South Korean fine dust standards into line with those of WHO.

4R

Investigate the Four Rivers project and punish for those found to have broken the law in connection with it.

NP

Abolish all nuclear power plants by 2040 and increase renewable share of energy mix to 40% by the same year, ban nuclear reprocessing.

HC

Boost regulation of harmful chemicals in the environment and product safety standards for children and other vulnerable members of society, establish a state environmental health and safety network.
Sim is the only candidate to propose animal welfare policies, including a pledge to convert South Korea's "factory farms" into "sustainable animal welfare farms," and to ban the use of restrictive cages and stalls over 10 years.
She also promises to introduce a system of labelling poultry and livestock products according to method of raising, and to overhaul the country's beleaguered animal disease prevention system and increase numbers of quarantine experts working with local authorities.
These pledges are significant because of South Korea's frequent outbreaks of avian influenza and foot and mouth, which regularly prompt the culling of affected and unaffected animals, sometimes in the millions.
Yoo Seong-min (Grade: C)
The Bareun Party was formed in late January when several conservative lawmakers broke away from what is now the Liberty Korea Party. Its presidential candidate, Yoo Seong-min, presents the environmental element of his manifesto as an effort to protect the population from "three great problems": fine dust, humidifier disinfectant (and other everyday chemicals), and nuclear power plants:
FD

Operate coal plants at a lower rate when atmospheric fine dust levels are high, upgrade aging diesel vehicles and construction equipment to lower emissions, upgrade monitoring systems.

4R

No mention

NP

Thoroughly investigate of areas in which nuclear plants are located, upgrade plants to withstand stronger earthquake forces; increase the independence of the Nuclear Safety and Security Commission, gradually reduce reactor concentration in complexes with high numbers of reactors, deny permission for lifetime extensions of heavy water and other aging reactors, gradually reduce nuclear plant numbers and replace them with gas and renewable plants.

HC

Tighten investigation of potentially harmful chemical products, monitor the distribution of potential dangerous products, mandate the disclosure of product ingredients or constituent elements on packaging.
This year's presidential election timetable is unprecedentedly short. Park Geun-hye's impeachment has left candidates scrambling to put together manifestos in just 60 days. But Moon Jae-in represents an established party. It is unclear why his election camp, unlike some of the others, was unable to provide more comprehensive details of environmental policy.
Hong Joon-pyo's spokesperson sent details of what appear to be his only two environmental policies, while Yoo Seong-min's spokesman failed to respond at all.
All in all, it appears the environment still draws the short straw when it comes to South Korea's national priorities.
Cover Image: The Geumho River during the Four Rivers Project. (Source: Wikipedia Korea)
*
For more stories on the presidential elections in South Korea, check out:
Become a subscriber to access all of our content.